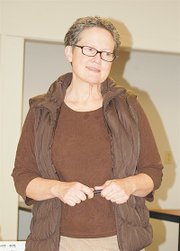 At a short meeting last night, Sunnyside Housing Authority Executive Director Ketha Kimbrough restated the goals of the organization to a group of about 10 residents attending the meeting before listening to the opinions and complaints of the residents regarding their housing.
Kimbrough explained that new federal rules have streamlined the process for small housing authorities like Sunnyside. Under the streamlined rules, the housing authority must hold an annual public meeting to make sure it is still on track with the five-year plan goals and objectives.
Kimbrough noted that the current five-year plan may be extended because the economy is slow and funding has been lower than expected. The updates they want to make may be delayed depending on how much money the agency receives.
She also said that the Department of Housing and Urban Development is on the list for the automatic cuts at the beginning of next year if a budget is not agreed to by the U.S. Congress. Because of the possibility of severe cuts to the authority's budget, planning for the future is difficult.
Kimbrough also provided a handout listing the goals of the authority and a mission statement and asked the group for opinions.
The first goal of the authority is an annual survey designed to identify the needs of the residents. As Kimbrough noted, while some residents were at the public meeting, the majority of residents were not, and the survey is a way to get the opinions of all residents.
The second goal is to promote energy conservation with improvements to the living units. Residents pointed out several updates made in the last two years that worked toward the goal and had questions regarding future plans.
The third goal involves the contract for law enforcement services with the city. When a resident asked if the contract was worth what the authority has been paying, housing employee Bill Eikenbary responded.
"We have the lowest crime rate in the city," he told the group.
Some residents expressed concern that the extra security is not available on evenings or weekends, and that complaints to the police are not being relayed to the officer assigned to the housing complex.
After the public portion of the meeting was done, Kimbrough stayed to listen to complaints and answer questions from the residents. Most of the complaints were regarding quality of life issues, including security in the laundry rooms. Some residents requested more benches in the complex.