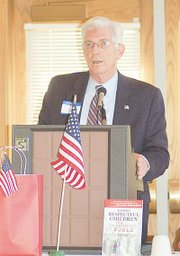 The state of Washington will collect more taxes than ever next year and the governor will likely seek a 5 to 6 percent spending increase.
That's according to State Rep. Bruce Chandler during a speech yesterday, Tuesday, to the Sunnyview Republican Women's Club during the group's luncheon meeting in Sunnyside.
Chandler (R-Granger) said Washington state's finances are in better shape than many other states such as California. However, this state is headed in a negative direction. "Our pension system is at risk of being underfunded," he told the group of about 20 people.
He criticized Gov. Chris Gregoire's likely preliminary budget that will seek to increase expenditures by 5 or 6 percent.
Chandler is especially concerned because some state agencies like the Department of Ecology are actually seeing funding increases, while budget cuts are focused on the Department of Corrections. That, in turn, leads to criminals being released early, he noted, and fewer officers available to supervise parolees.
He also assailed the rise in fees the state and its agencies are assessing, calling them in essence a tax. "It's interesting how fees become taxes," Chandler said.
The answer, he concluded, is to elect Republican Rob McKenna this fall as the state's new governor. Further, he said with a high voter turnout the Republicans have a chance to gain majorities in the state house and senate.
Chandler encouraged the audience to get out the vote, regardless of what the latest polls say.
"There's only one poll that matters and that's the one on election day," he said.