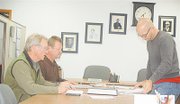 A friendly lay-out and reasonable rates are bringing more plane traffic to the Sunnyside Airport.
Now the idea is to find a way to encourage pilots to linger longer in Sunnyside.
That was part of the discussion last night, Tuesday, during the airport advisory board's monthly meeting.
Ted Durfey owns a fuel tank at the airport and last night told fellow board members that 2,000 gallons of airplane fuel were used in the last month. "We're slowly starting to see it coming," Durfey said of air traffic.
Durfey said fuel prices at the Sunnyside Airport are the best around, and noted the airport's open configuration makes it easy for pilots to fly in and out of Sunnyside.
Sunnyside Interim City Manager Frank Sweet said he saw four planes at the airport the other day.
After discussing ideas for getting a better handle on numbers related to airport traffic, such as a video counting system or a pilot's log in the airport lounge, attention turned toward guiding pilots and passengers into town.
Board chair Larry Dolan suggested extending the sidewalk from the Port of Sunnyside's property on East Edison out to the airport.
Other ideas included having an old city of Sunnyside car designated as a "courtesy car" for pilots to use to drive into town to eat at local restaurants or to shop.
Also mentioned as a possibility was offering bikes on loan at the airport, so pilots making a stop here for fuel could enjoy a bike ride into town for a bite to eat.
The airport advisory board's next meeting will be Nov. 20 at 5:30 p.m. in the Port of Sunnyside board room.