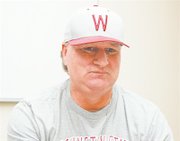 The Sunnyside Parks and Recreation Board has decided to send a proposed ordinance formulating a new policy regarding the consumption of alcohol in city parks to the city council for approval.
The ordinance was adapted from the city of Grandview's policy. It allows for alcohol to be served at up to 10 events per year with only two events by any single applicant.
Attending yesterday afternoon's meeting was Grandview Parks and Recreation Director Mike Carpenter, who advised the board to make sure anyone holding an event provides a liability insurance policy that lists the city as an additional insured party.
The proposal is limited to Centennial Square and the Sunnyside Community Center with the types of alcohol limited to wine and beer. The board expects the policy would be executed on a trial basis and only continued or extended to other venues if it is a success.
Other limitations in the proposal on the use of alcohol include restricted hours, restricted locations and permission from the chief of police before the application is approved.
Organizations that serve alcohol would also be required to have a valid permit from the Washington State Liquor Control Board and would have to have at least one person with mandatory alcohol server training on duty at all times.
During Wednesday's discussion, Interim City Manager Frank Sweet noted that only select organizations and non-profits would be allowed to serve alcohol. He said such events were less likely to have problems.
"They (event patrons) are there to support the group," he said. He argued that people in support of a non-profit know that bad behavior would reflect poorly on the group.
Board member Robert Sarmiento asked if the policy was likely to ever be extended to include private parties, such as a quinceanera. Some discussion about the liability dangers of allowing such an event on city property ensued. The consensus was that the policy would stay limited to non-profits.
New board member Trisha Combs reminded the group of the statement made by Councilman Nick Paulakis recently, who has consistently voted against allowing alcohol in city parks. Sarmiento agreed to an extent.
"You don't need to have alcohol to have fun, bottom line," Sarmiento said in echoing Paulakis' comments. "But if we need to allow it to bring in more money, we should be careful and allow it," Sarmiento added.