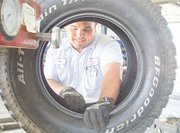 Since the age of eight, Andres Garcia always knew he wanted to work with cars.
This 25-year-old has called Sunnyside his home for nearly 15 years, and says he's happy with how his life has turned out.
After high school, Garcia moved to the Seattle-area for a short time, but eventually returned home to his roots in Sunnyside.
Somewhat fulfilling his childhood dream, Garcia work with cars, but in a different way.
Nearly three years ago Garcia began work at the Sunnyside Tire Factory, and has been satisfied ever since. He says the best part about this job, working with tires, is that each day is a new challenge.
"I work with tires every day, but it's not always the same tire," he said.
Garcia's duties range from assembling small tires, to large tractor tires.
"Some of the tires are bigger than me," he said.
He also loves that the job keeps him moving and active.
The only downside: going home smelling like tires, he said.
"Working with tires... you're never clean," he said.
Garcia says as of late, he's also been given the opportunity to work inside the sales room, working with customers one-on-one and showing off his customer service skills.
Outside of his vocation, Garcia's priorities are aligned with his family, including a 1-year-old-son and a two-month-old daughter.
"It's all about family right now," he said.
After work, he can't get home fast enough to spend time with his children and girlfriend, he said.