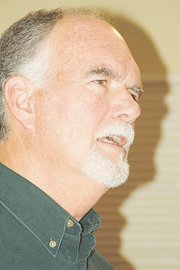 Yakima County Sheriff Ken Irwin says there are a lot of challenges the YSO is facing this year, primarily due to tough economic times.
"We have to be thrifty but we still have to move forward," he said to Sunnyside Republican Club members this morning.
Irwin says he's currently working to avoid having to lay off at least two deputies in the force.
"I think I'll be able to avoid it," he said.
Through nearly 100 vehicles impounded annually along with forfeitures of vehicles and property seized during crime scene investigations, the sheriff's department has a forfeiture account balance of about $385,000.
But there is still the issue of a continual inability to match revenue with the department's expenditures, according to Irwin. He says they are continually looking at ways to lessen expenditures but still ensure the safety of the county's residents.
"We're looking at a leaner, more cost effective justice system," he added.
Irwin said that county officials are looking towards releasing arrested individuals, who are not a danger to the community, quicker with a monitoring system.
"We're looking at being able to book these individuals, then release them to make our jail system more cost effective," he said.
Irwin says it costs the county nearly $80 a day to house an individual in the county jail. But to use a monitoring structure, such as an electronic home monitoring system along with daily visits from sheriff's deputies, the cost to the county is between $4 and $5 a day.
"We're trying to provide you the best service we can with the money we're given," he said.