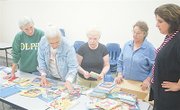 They help maintain flower planters at the library. They plan projects and events at the library. They conduct book sales at the library.
They are the Sunnyside Friends of the Library, and they are always looking for more people to help with donations or time.
The group is open to all individuals or organizations that support the library system and want to be a part of it. Members aren't required to attend meetings or hold offices, they just need to donate a little, in cash, books or time.
Friends of the library try to help make the library more effective in the community. They try to bring people into the library and get youngsters reading. They work to raise awareness of library resources beyond books: the magazines, music, video and internet access.
Becoming a member of the group is as simple as providing a donation of time, books or money. There are no dues and no firm commitment of time is expected from members.
Organizations or individuals can donate cash, books, or other goods to the library to support the summer reading program with prizes or to help pay for ads publicizing library events.
Volunteers are always useful to work at the second-hand book sales or help maintain the planter boxes outside the library. Volunteers can also participate when the group promotes the library at local fairs by taking a shift in the booth or helping to design the presentation.
People who are very interested in helping out can attend the annual meeting and share ideas for the coming year. People are also needed to serve on the committees for book sales, community activities or library courtyard.
Folks who want to help even more can attend meetings on a regular basis or even run for office.
For more information on the group, people can visit the library at 621 Grant Avenue or call Sunnyside Friends of the Library President Judith Carrick at 509-837-4977.