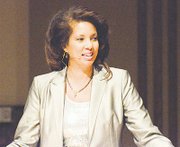 GRANDVIEW - Last night's Life Options fall fundraiser may not have had as many people attending as in years past, but those who did attend the event pledged more support for the organization than any other year.
More than $159,000 was pledged by just more than 200 people who attended the fundraising event.
The goal, according to Life Options Director Jan McDonald, is to generate enough financial support that the local pregnancy center can purchase a mobile unit to make it easier for clients to have access to pregnancy support services, including ultrasounds.
She told those gathered that last year's fundraiser was successful. The group prayed for a larger facility in which ultrasounds could be provided.
"The answer was literally under our nose," said McDonald, stating Life Options was able to present an offer on a building that sits at the corner of Division and Third streets in Grandview. A new, state-of-the-art ultrasound machine was purchased, and the building was acquired in a matter of three weeks' time.
Life Options has served 50 percent more clients in the past year than it did between its 2010 and 2011 fundraisers.
McDonald said the organization's marketing campaign has been successful in providing those clients with the information they needed to find the pregnancy centers in Grandview and Sunnyside.
The goal, she said, is to continue the success by providing easier access to the Life Options website, updating the content on the site so that Google search results will direct more people to the website.
Life Options serves more than those who have unexpectedly become pregnant. The organization provides support for soon-to-be fathers, counseling for women who have chosen to have an abortion and support groups for young girls and boys, helping them to make wise relationship choices.
"More than 6,000 lives have been changed, and 150 babies have been born since our 2011 banquet...imagine more campus students finding Life Options through our website...imagine the future of a valley that brings their community back to life," said McDonald.
The featured speaker last night, Bridget VanMeans, is the president of Thrive St. Louis in St. Louis, Mo. Her organization is a multi-site pregnancy resource center, featuring two mobile units and three brick and mortar locations.
VanMeans said the supporters of Life Options have become legendary within another organization she works with, The Great Turnaround.
"Life Options has decided to declare this county and surrounding counties an abortion-free zone," said VanMeans.
She said she has always believed in the sanctity of life, but didn't understand the complexities of life until she became a mother.
Knowing each child is a treasure and experiencing motherhood has made VanMeans more determined.
"We are living a miracle," she said.
VanMeans believes there is nothing greater than the loss of a child. She said the Father (God) feels the same way and His dream is cut short through abortion.
"It's going to take resources to save lives," said VanMeans.
She said she has seen God move in miraculous ways and believes miracles are possible in the Yakima Valley and beyond.
VanMeans asked those attending last night's fundraiser to "Stand in the Gap."
She said it is the role of the faithful to intervene and save lives.
VanMeans said researching the Yakima Valley, she believes 1,000 babies will lose their lives in the coming year if people don't take a stand against abortion.
"The church as a whole is not going to stand in the gap...they haven't done so in more than 40 years...we are the hope of those 1,000 children...it'll be a remnant of the church that saves those lives," said VanMeans.
Several times she compared abortion to the Holocaust and referred to the movie "Shindler's List."
VanMeans said 6 million Jewish lives were lost because of Adolf Hitler and the Nazis. However, there have been more than 54 million abortions in the U.S., which is the equivalent to the population of 25 states.
Reading from a list of states that would be wiped of their entire populations, she asked those attending the fundraiser to stand if they have a parent or grandparent who was born in one of those states. More than half the attendees stood, and VanMeans said those people would not be in existence if their parent or grandparent was aborted.
Washington state was added to the list of 25 states because it's estimated another 1 million abortions will be performed this year.
"This is your Shindler moment," said VanMeans, stating last night's fundraiser was an opportunity for those present to take a stand against abortion, saving lives much like Shindler did.
The impact of the decision, VanMeans said, will affect generations to come.
"Shindler stood in the gap...more than 13,000 people exist because he chose to save 1,100 lives."