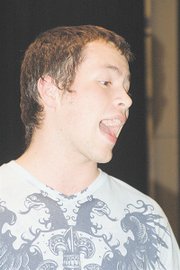 A 'wild' good time in the performance of "Just So, the Musical," staged by Sunnyside High School drama students is promised to be had by all.
The musical begins at the time of the very beginnings, when the Eldest Magician has created a world and filled it with animals.
Unfortunately all of the animals look the same, but rather than performing further magic and changing them, the magician tells them to go out into the world and find their own characters.
With that exhortation the 'animals' are charged to celebrate individuality and diversity.
"Just So" is about storytelling, and that requires the listener to use his or her imagination.
Taking the spotlight in this endeavor are SHS drama students Matthew Gallagher, as the Eldest Magician; and Michael Gallagher, playing the Elephant's Child.
Part of this witty-dialogue performance is double cast, due to the overwhelming amount of talent bursting at the seams of the SHS auditorium stage, according to Sunnyside High School Drama Director Corey Murphy.
Murphy also promises the show to be a laughing, good time for adults and children.
"It's written by Brits, so it's going to be funny," he said.
Also participating in the show are Abby Ramos, Sergio Ramirez, Jose Torres, Gavin O'Leary, Christian Murphy, Avery Gardner, Jamie Parra-Reynoso, Danny Vidales, Audrey Rosalez, Alexis Arambul, Meagen Meyers, Kayla Rodriguez, Sierra Rogers, Yessica Honstein, Yaritza Salmeron, Erika Gutierrez, Aly Spidle, Jonathan Tavira-Alcaraz, Josh Hernandez, Itzel Lujan, Jacob Robles, Matthew Gongora, Elizabeth Adame Garcia, Adriana Chavez, Angelz Montes, Jynessa Rosalez, Leah Rogers, Kimberly Bazan, Monica Rodriguez, Carissa Juarez, Michelle Vazquez and Jessica Garnica.
The Sunnyside High School Drama Club has scheduled this comical production to begin Thursday, Nov. 1. Additional performance days include Saturday, Nov. 3, and Thursday through Saturday, Nov. 8-10. All shows begin at 7 p.m. and admission to the musical is $6 for adults.