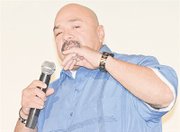 In place of a regular Sunday sermon at Sunnyside's Oasis Community Church a presentation was provided by four men with FIRME (Finding, Impacting, Redirecting gangs through Mentorship and Education), a gang outreach program based in the Tri-Cities.
Pastor Cameron Garcia of Oasis Community Church said he is often asked why his church is engaged and concerned about gangs.
"We don't have a choice," he said, stating his church suffered damage because of a shooting this past spring and "...God asks all people to love one another and to build relationships."
Garcia said the people of the church are asked to show others the love of Christ. "Whenever a person walks through those doors, their labels disappear...we all wear the same label, 'sinner,' but when we walk back out into the world we should be wearing 'redeemed'."
Jessie Campos is the director of FIRME. He told those gathered for Sunday's message that there is hope for Sunnyside and the entire region.
As a former gang member himself, he knows personally what it means to have one's life changed because of the love of God.
Campos said he became a drug addict at the age of 9 and got involved with a gang in 1985.
In 1995 Campos found God, and he said there are more than 50 former gang members who have been helped through FIRME that have similar stories.
"These aren't just pee wees," said Campos, stating between himself and the three other FIRME representatives at yesterday's service more than 43 years of their lives have been spent behind prison walls.
"These are the shot callers...men who have been in gangs for years," said Campos, stating that more than 80 years of drug addiction was also represented by the men.
Campos said there are more than 33,000 gangs and 1.4 million documented gang members that are criminally active in the U.S., according to the National Gang Threat Assessment.
The assessment, however, only accounts for those gang members who have been classified as "documented."
"There are far more than that number reflects," said Campos.
Gang activity accounts for nearly 50 percent of crime in most jurisdictions, and as much as 90 percent of crime in some cities, he said, noting gangs are a threat to America. In fact, the FBI has classified gang activity as a larger threat than any other because it impacts entire neighborhoods and cities.
Some of the non-traditional crimes that are on the incline, said Campos, are smuggling, human trafficking and prostitution.
"Gangs are becoming more sophisticated and technologically savvy," Campos said.
"These are the kids you see in your neighborhood playing basketball...those are the kids you call wannabes," he said.
In Washington state there are more than 36,600 documented gang members and more than 2,000 active gangs. That's according to the Youth Health Study.
In Yakima County there are more than 1,600 documented gang members and Campos said statistics show just 10 percent of those involved in gangs are "doing all the work."
There are 40 gangs in Yakima County and 20 in Benton and Franklin counties. King County has 120 known gangs.
On the FBI's list of top 10 list for most violent drive-bys, Washington is tied with Illinois for fourth behind California, Texas and Florida.
Frank Gomez is a former gang member who was once among the statistics.
He said he joined a gang at the age of 13, and in spite of his grandmother's attempts to raise him, he chose the gang as his family.
Gomez said he used drugs to cope with his personal turmoil and gradually progressed from drinking alcohol to using drugs like meth.
"I was a creepo," he said, adding, "Before you know it, you're lost and begin to feel hopeless."
Gomez said gangs offer a false hope and eventually an individual who has surrendered himself or herself to the gang lifestyle begins to feel shame.
"I was shot five times in three months," he said, stating there are many reasons he should not have survived his life as a gang member.
However, Gomez believes he is "...a living testimony.
"I was a puppet. I thought I was a leader, I was doing drive-bys, I was shooting people I didn't know."
Now, he is a changed man, living in God's grace.
Abraham Salazar had a similar story.
He said he has been blessed because God has changed his life, too.
Salazar said his mother is a loving woman who tried to teach him "all the good things in life."
But, he said he was intent on "doing my own thing."
Salazar wanted what the local gang member "Big Mike" had, which included the gold chains and expensive clothes.
Salazar, for all his desire to have those things, ended up spending nine years in prison. He was a heroin addict and said he returned to his life of crime every time he was released from prison.
"When I was strung out on drugs, I was sleeping on the side of a freeway and I was stuck in a routine of madness," said Salazar.
"I knew the lady who brought me into the world didn't imagine that for me," he said, speaking of his mother.
Salazar said he straightened his life out through a program run by former gang members. In that program were men who had been members of the crips and bloods, as well as other notorious gangs.
Those men got tough with him.
"Some of them had been in prison longer than me," Salazar exclaimed.
He said the men in the program told him he didn't know who he really was and helped him find his true self.
Salazar eventually worked his way up through the program and became a drug counselor. But, that was taken away and he moved to Washington state. Now, he works with FIRME and he said, "I want to see a mom smile at her son."
Daniel Gonzales, too, began his downward spiral at a young age. His father died when Gonzales was just 8-years-old. It was a year later that the young Gonzales first landed in juvenile detention.
From that point on, he said, he was in and out of jail.
It was a dream, however, that helped Gonzales realize his folly in life.
He had just been released from Soledad State Prison in California.
Gonzales dreamed of an entire scenario taking place that ended with him being arrested again.
Having forgotten the dream upon waking, he set about his day. Strangely, all the events that transpired from the moment he woke were exactly as what had transpired in his dream.
It was at the moment of his arrest that Gonzales decided to question God, asking if the dream had been a message or a warning that had been ignored.
That question led to Gonzales changing his life around.
All of the men said they believe that God can change the hardest of hearts and it is through faith and prayer, as well as mentorship and education that today's gang members can also be redeemed.