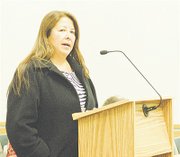 A draft of an ordinance permitting alcohol to be served at select events in two Sunnyside parks was presented to the city council last night.
Based on the city of Grandview's ordinance, the proposal to allow the serving of alcohol by non-profit groups was recommended to the council by the Board of Parks and Recreation.
As proposed, the new ordinance would allow up to 10 events with alcohol per year in the city and requires trained servers to be on duty at each event.
New parks and recreation board member Patricia Combs informed council that this ordinance will allow events to showcase some of the wines produced in this area.
Councilman Craig Hicks noted that the ordinance allows service of alcohol in a fenced off area, but he felt the area should be enclosed and out of sight. Councilman Jason Raines and Deputy Mayor Don Vlieger agreed with him.
Vlieger also asked that the ordinance specify that alcohol cannot be brought on-site by guests. Interim City Manager Frank Sweet agreed, saying that stipulation would be added.
Councilman Nick Paulakis reiterated that he's against allowing alcohol in city parks.
"I'm against this wholeheartedly," he said. "I think there's enough things that involve alcohol, we don't need to be doing it in our parks."
He spoke of the harm alcohol does, even in small amounts.
"So to allow this, to give it the okay at our parks, is from what I'm thinking, pretty sad," said Paulakis. "I'm 100 percent against this."
Raines said he approves of the ordinance as long as it is done responsibly. He suggested that the requirement for liability insurance be part of the ordinance.
"I've struggled with this," said Mayor Mike Farmer. "I certainly understand Nick's position, and I understand Jason's position, and I still don't know what I'm going to do."
He also asked if the ordinance would exclude young married couples under the age of 21 from attending the hospital auxiliary's Festival of Trees event, because as proposed the ordinance doesn't allow minors to be at such gatherings.
Sweet asked if it would make sense to limit the the serving of alcohol to the community center and not include Centennial Square. Vlieger and Raines both indicated they wanted Centennial Square designated as one of the two sites where alcohol can be served.
"I could save a lot of discussion," said Paulakis. "Just say no."
The council suspended the rules to allow public comment on the proposed ordinance.
Pam Turner, Executive Director of the Sunnyside Chamber of Commerce, said people would be on their best behavior at events that would be allowed to serve alcohol.
"It isn't an event that's going to be a big hoo-rah or free-for-all," she said, singling out the Festival of Trees fundraiser.
Combs also spoke on the Festival of Trees and how it showcases local wines and is a family-friendly event. She pointed out that alcohol was not the focus of the event, just part of it.
The council deferred further comment until the final version of the ordinance is presented at the Tuesday, Nov. 13, meeting. The council will seek public comment at that time as well.