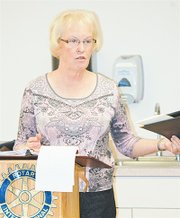 Over the years Whitney Brown has become a bit of an expert at estate sales. And she's been doing them for nearly two decades.
As owner and operator of Ivy Estate Sales, based out of Sunnyside, Brown deals with folks who are moving or with family members of loved ones who have passed.
"It's dirty, hard work, but I like it," the Sunnyside Daybreak Rotary Club speaker said recently.
Some may think summer is the ideal time to have an estate sale, but Brown begs to differ.
"In the summer people are busy, kids are on vacation and people just aren't around," she said.
Brown says the ideal time to hold an estate sale is in the winter months.
"People are more likely to come when it's cold out and there isn't much to do," she added.
Brown also says when scheduling a sale, the planner must be aware of events going on in the surrounding area.
"If there's a big wine tasting event or something like that, it's not a good time to have (an estate sale)," she said.
When Brown prepares to draft a contract with the property owner, she begins by going through the home and estimating what each item may sell for. From that estimation, Brown formulates her commission fee.
Then she and the team get down and dirty and begin to clean the home and sort the items.
Many may think of an estate sale as an auction, but that's not how associates at Ivy Estate Sales get their job done.
"We do tag sales," she said.
Usually Brown runs the sales for three days and of course, on the final sale day items are heavily discounted.
When sorting the items, the team establishes a "family box," which has the property owner's personal items that may be of personal or monetary value, such as wedding rings, legal paperwork and sometimes even cash.
After the three-day sale is done, Brown takes the leftovers to various non-profit organizations and donates them.
"You have to remember, one person's trash is another person's treasure," Brown said.
Finally, when preparing for the big sale, Brown recommends family members do not attend the event.
"Sometimes people get emotional," she said. "It's just best they don't come."