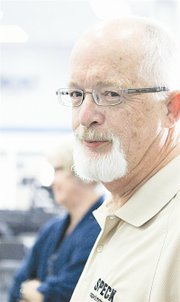 For the past 50 years Roger Buitenbos has seen many people come and go at C Speck Motors in Sunnyside.
He started his venture at the local family-owned dealership in 1962, and has been there ever since. Buitenbos credits his longevity with the company to a quality working environment and good people to work with.
"I really enjoy the patronage our local customers have, too," he said of loyal, local customers at the dealership.
Buitenbos even manages to put names to most of the familiar faces around town.
"I really appreciate the quality people we have here in the Lower Valley," he said.
The Mabton native started at the local dealership as the office manager, a title which he kept for 25 years. Then he took his business accounting degree and moved to the accounting department at the dealership.
This 1959 Mabton High School graduate has lived a full life, serving in a military reserve program and still making time for his family.
But Buitenbos says the icing on the cake has been working for the Speck family. He's been there long enough to see three generations of the Specks, now with current owners J.P. and Katy (Speck) Moore.
After notching 50 years of service to C Speck Motor Company, his coworkers and employers threw him for a whirl when they surprised him with a fully decorated showroom, in his honor.
"It was a real surprise, I still get goose bumps thinking about it," Buitenbos said of his 50-year anniversary surprise party this past Wednesday afternoon.
After 50 years, Buitenbos doesn't see retirement in the near future. There isn't a reason to leave, with this second family at the dealership.
"I've always been treated well here, I don't plan on retiring anytime soon," he added.