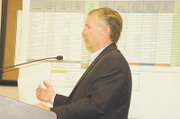 YAKIMA - Yakima County commissioners have drawn a line in the sand, telling public safety and law and justice officials they can't account for more than 82 percent of the county's general fund budget.
That's according to action commissioners took yesterday, Tuesday, in approving a preliminary $55.3 million general fund budget for 2013.
The general fund accounts primarily for day-to-day functions in county government. Each year, the portion of the budget dedicated to public safety/law and justice has grown.
For 2013, commissioners are sending the message that law and justice departments must live within their means and not take up any more than the 82 percent they currently hold.
Commissioner Mike Leita praised all of the county's department heads for participating in the 2013 budget process. He noted all of the departments and elected officials are on board with the proposed budget.
During yesterday's meeting, Leita said over the years other portions of county government have been cut to the point they can't be cut anymore. Those cuts have included staff reductions and shorter office hours.
Leita says things are at a point where public safety/law and justice funds have to be held to no more than 82 percent of the general fund budget
"We're drawing a line, you must live within your means," Leita said of public safety/law and justice budgets. "More money will not solve the problems."
Accordingly, public safety/law and justice departments will come up with the $1.6 million needed to shore up a Department of Corrections shortfall anticipated for 2013.
The preliminary budget also includes nearly $3 million taken from road funds and applied towards the debt on the county's new jail.
Craig Warner is the county's budget director, and during yesterday's budget presentation he noted Yakima County is taking in nearly $1 million less in sales and property tax revenues than it did four years ago.
At the same time, general fund expenses continue to climb, increasing 2.3 percent for 2013. Warner explained that $813,155 will have to be taken from reserves to balance the 2013 budget.
Speaking of reserves, the preliminary budget calls for the county to hold 11 percent of revenues in reserve, instead of a previous policy of 12 percent. The reserves are needed because the county only receives tax payments twice each year, requiring it to have funds in savings to meet month-to-month requirements.
Overall, Yakima County is looking at a budget of $229.7 million in 2013. That includes $22.7 for corrections and $29 million for roads.
The 2013 budget plan calls for a nearly 2 percent wage increase for county workers.
The public will have two opportunities to comment on the 2013 preliminary budget. Public hearings are set for Tuesday, Nov. 6, at 10:30 a.m. and Wednesday, Nov. 7, at 7 p.m. Both will be held at Yakima City Council Chambers.