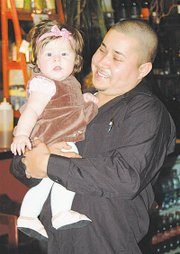 Young Life's new Sunnyside area director, Eduardo Gallo, introduced himself to members of the public at a meet-and-great held at Bon Vino's Bistro and Bakery last night.
The drop-in social allowed people to visit with Gallo, who recently moved his family into the area.
Gallo grew up in San Jose, and volunteered for CityTeam Ministries for many years. He visited other cities to help with local ministries, including Seattle and Portland.
He said he's been working in ministry for about 10 years, much of it volunteer time.
After his marriage, he moved to Lewiston, Idaho, for a while. He said ministry was difficult there because the people he wanted to meet with generally didn't get out to socialize. As a result, he started to minister at people's houses.
In Sunnyside he hopes to put his experience with gang members in California to use.
"I want to use money wisely to invest in the kids," he said. He also hopes to find more donors for Young Life to support its activities in the area.
"We have to get to the kids early," Gallo said. "Give them something to do."