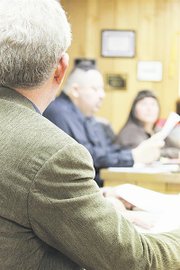 MABTON - Councilwoman and Mayor Pro-tem Oping Hutson opened Mabton's 2013 budget hearing, and put it to rest just 30 seconds later.
The no-show public hearing was intended for public comment on how the city plans to spend its funds in 2013.
Despite no public attendance, Mabton City Council members discussed the preliminary budget numbers and will continue to do so, with an expected adoption date of Nov. 27.
Currently the 2013 budget has an estimated $1,622,816 in expected revenues, and $1,670,156 in expenditures.
Last year's budget indicated, however, an estimated $3,390,997 in revenues, with expenditures totaling that same amount. To date, City Clerk Ret Stewart says the city has received $2,092,790 in revenue and has spent just $1,018,156.
Budget discussions will continue on Tuesday, Nov. 6, with a special budget workshop, beginning at 6 p.m. before a second public hearing, which is slated for Tuesday, Nov. 13, at 7 p.m.
Mabton City Council will hold a third and final public hearing on the 2013 budget on Tuesday, Nov. 27, at 7 p.m. The council also plans to adopt the 2013 budget on the same day.