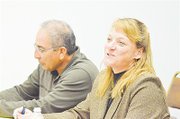 GRANDVIEW - The city of Grandview since planning its Euclid Road improvement project knew it would need to partner with property owners to improve the right-of-way between Groom Lane and the south city limits.
One of those property owners, City Administrator Cus Arteaga told the Grandview City Council last night, is Genesis Housing Services.
A partnership agreement was not yet in place when Grandview secured Surface Transportation Program (STP) funding for the project.
"We securing STP funding faster than we anticipated," Arteaga told the city council.
He said Genesis Housing Services, however, has agreed to partner with the city. It has agreed to make approximately $60,000 worth of improvements to the right-of-way along Euclid Road and has another $20,000 in funding it would like to contribute to the city's efforts to improve the roadway.
Arteaga said the improvements Genesis Housing Services have been making include new retaining walls and landscaping.
"It's really nice, high-quality work," said Arteaga.
To accept the $20,000 contribution to the road project, the city of Grandview had to enter into a memorandum of understanding.
The Grandview City Council authorized Mayor Norm Childress to sign the agreement by a 5-0 vote.