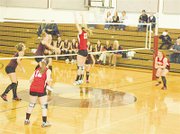 The Sunnyside Christian Lady Knights are a force to be reckoned with on the volleyball court and proved their mettle again last night against the Bickleton Lady Pirates.
The Lady Knights took the match in three sets, 25-6, 25-14, 25-18, to remain undefeated on the season while Bickleton fell to 5-5 in league play on the season, 7-5 overall.
"The first game was a rough one to get through," Bickleton Coach Katie Leuthauser said.
In the second, Bickleton started to pull it together, "...but not quite in time," Leuthauser added.
Leuthauser said the key to Bickelton's loss was a mentality of losing, having now dropped four of its last five matches, and poor communication.
Despite the loss, some Lady Pirates managed solid stats. Bickleton's Jamie Venema was able to notch a perfect record at the service line. She went 8-for-8 serving with one ace, notched four unreturnable spikes and provided one block in the loss.
Lady Pirate Amanda McBride went 5-for-5 at the service line, while teammate Haley Goodnight went 7-for-8 serving with one ace and an assist.
Lindsay Brown provided two kills and two blocks on the night for the Lady Pirates.
On the Lady Knights' side, Stormee Van Belle slammed home 17 kills on the night with a 30-for-30 performance from the service line.
Kate Newhouse led Sunnyside Christian in serves, going 30-for-30 with seven aces and contributing nine digs to keep the ball moving.
Lady Knight Danika DeGroot was 9-for-9 serving with 25 assists. Annie Brouwer and Brittany Broersma each had five kills in the win, with Broersma keeping the ball alive on the Lady Knights' side of the court with six digs.
Alexandra Newhouse turned in a great performance with six perfect passes and six digs while going 13-for-15 from the service line for the winners.
Both teams are headed to the District tournament in Goldendale on Saturday, Oct. 27. Sunnyside Christian (9-0, 13-0) will squeeze in one more regular season game next Monday, Oct. 29, at home against Yakama Tribal.