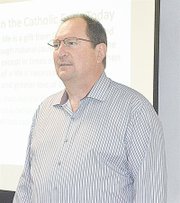 There are few people who have not been touched by suicide, according to Lower Valley Hospice and Palliative Care Director Ron Jetter.
He said when a person commits suicide it affects many people and can sometimes impact an entire community.
For that reason, Jetter believes it is important to recognize the risk factors for preventing and intervening, as well as to understand there is a natural grief process.
Earlier this week Jetter led a workshop, teaching those in attendance about suicide risk factors and the grief that is felt by those left behind.
"Suicide can be the result of a single act or a slow series of acts," he told those at the workshop.
He said drug abuse is an example of someone slowly committing suicide.
"Suicide is the 11th leading cause of death," Jetter said.
Those left behind, he said, often experience feelings of shame, feel guilty and have more difficulty dealing with the grief than if the individual had died of other causes.
In Western culture suicide is not viewed as an honorable way to die because of the belief that people were created for a purpose and every breath is God's to give and take, according to Jetter.
"To take your life for no reason that can be seen is to throw away a life," he said, although he noted martyrdom and giving one's life to save another are not considered suicide by the church or society.
A "just war" is also an exception for taking a life, Jetter said.
When a mentally ill person takes his or her own life, the church sees it as a cry for help and believes God's grace is extended to the individual, family and friends, Jetter said.
"God grieves for them," he said.
There are risk factors that present themselves when a person is considering suicide, but exhibiting those risk factors does not necessarily mean the person will attempt to commit suicide, Jetter said.
"If a person says they are thinking about committing suicide, take them seriously," he told those at the workshop.
Risk factors include the person's gender, age, whether they suffer from depression, previous attempts, alcohol or drug use, whether they are thinking or acting rationally, and whether or not they are social. Jetter said other factors to take into account include whether or not the individual has a suicide plan, does the individual have anyone to hold them accountable and is the individual suffering from a chronic illness or pain.
Males are more likely to kill themselves than females, and persons under the age of 20 or over the age of 40 are more at risk.
Depression can be exhibited by anti-social behavior, a person eating less often and the individual pushes people away.
"Depressed people do not experience joy in anything...half the population is walking around with some kind of depression," Jetter noted.
If a person has attempted to commit suicide before or has a close member of their family who killed themselves, they are at even greater risk, according to Jetter.
He said alcohol and drugs are sometimes used by a person who is suicidal because they are trying to push their emotional pain away.
"Seven of 10 factors in place may be indicative of a person who is at risk," Jetter said, stating the most common means of committing suicide are guns for men and overdoses for women.
He said men more often carry through with suicide because they've chosen a gun to take their life. Drug overdoses don't always result in what the victim intended.
"The goal is to make the pain go away because they want reality to go away."
When confronting an individual believed to be at risk, Jetter said it is advisable to get them to commit to something like waiting two days before harming themself.
He said that will provide time to figure out how to best intervene, but sometimes even intervention is not successful.
Jetter said he knew a woman whose family intervened and had her undergo hospitalization. Unfortunately, she committed suicide once she was released.
When hearing about a suicide, the typical reaction is one of shock, said Jetter.
He said people don't want to believe another individual committed suicide.
A second reaction is to try and figure out why the individual chose to take his or her own life.
"People want to find blame," said Jetter. "They want to rationalize, thinking the suicide could have been prevented."
Jetter said that process occurs because humans have difficulty surrendering control and dislike the idea of powerlessness.
Emotional responses are the third reaction to a suicide. Jetter said anger, frustration and guilt are the most common emotions experienced.
"Guilt is a typical reaction because of a feeling of failure...anger is like a balloon and some believe a suicide is directed at them, but the individual who committed the suicide is responsible for their own actions," said Jetter.
He said a third party can contribute to a suicide, but the person who kills him or herself is in control.
Coping is best done with a strong support system, Jetter said. He advises surrounding people grieving with people who are willing to listen and offer a shoulder to lean on.
Jetter said there are ways for seeking help via a prevention hotline (1-888-SUICIDE). Support for those grieving after a suicide is available by calling Comprehensive Mental Health at 837-2089.