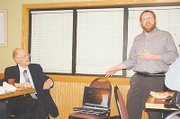 Voters in this state have a laundry list of initiatives to consider on the Nov. 6 General Election ballot.
This morning, Friday, the Sunnyside Republican Club met at the Sunny Spot Restaurant and discussed the initiatives one-by-one.
Sen. Jim Honeyford of Sunnyside briefly described each measure, noting Initiative 1185 will require two-thirds of a vote by the state legislature to raise taxes.
He said Initiative 1240 will allow the creation of up to 40 public charter schools over the next five years. If approved, the schools would be open to all students.
As for Referendum 74, which would allow for same-sex marriage, Honeyford said as he understands it same-sex couples are already protected under state domestic partnership laws.
Initiative 502 would legalize the growing and processing of marijuana for those ages 21 and over. Honeyford noted licensing and taxes would apply to marijuana, if the initiative passes. Dr. Jack Hale is the president of the local GOP club, and he told the group this morning that the proposal would legalize recreational use of marijuana if approved.
Honeyford also referenced two non-binding advisory votes facing the public. No. 1 would repeal a B&O tax on larger banks. It would not impact community banks.
The other non-binding issue - meaning voters can only recommend, not enact policy - is No. 2. If approved it would recommend extending a tax on petroleum products. Honeyford said if the tax is not extended then gas stations will have problems trying to obtain insurance to cover their tanks.
The Nov. 6 ballot also has two Senate Joint Resolutions.
No. 8223 would be a constitutional amendment allowing the University of Washington and WSU to invest certain public funds. Honeyford noted that move would allow student fees to be invested so they earn a higher interest rate.
No. 8221 would gradually lower the state's debt limit from 9 to 8 percent. "This measure will help control state spending and debt," Honeyford noted.
The national debt was also reviewed at this morning's breakfast meeting, as YVCC economics professor Brock Eubanks discussed its impact.
Now totalling $16 trillion, Eubanks says the national debt has grown by $6 trillion over the past four years.
He notes as long as the U.S. public has faith in its government to handle that debt then the country should be fine. If that faith is lost, as in Greece, then he says there is trouble.
Though the U.S. debt is 102 percent of GDP, Eubanks says that is comparable to levels in the aftermath of World War II. Further, he says that rate is modest compared to Greece (165 percent) and Japan (204 percent).
Speaking of Japan, Eubanks says that country and China each own about $1.1 trillion of the U.S. debt. The reason, he notes, is so those countries can manage their currency and reduce the price of the products they export.
The long-term concern with national debt, Eubanks notes, is that "...public investment crowds out private investment." When the debt forces the government to borrow, he adds it "...drives up interest rates and reduces consumer spending."
That, in turn, Eubanks says, "Leads to more deficit spending. It's a vicious cycle."