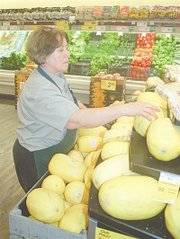 It's a common sight on highways and byways this time of year in the Lower Valley, trucks full of plump produce heading out from farm to market.
Beatriz Saenz is on the receiving end of some of those fruits and vegetables as a produce clerk at the Safeway store in Sunnyside.
Next year will be her 20th anniversary at the local store and all of that time has been spent working with produce.
"I like keeping the produce clean and appealing for the customers," Saenz smiles. During the autumn season that's underway now, she says pumpkins and squash are especially in demand.
That's not all, though.
"Apples and grapes are in season now," she adds.
Potatoes are also in season currently, Saenz says. She notes that staples such as oranges and bananas are always available. "We sell everything," she smiles.
As produce clerk her job entails displaying fruits and vegetables, keeping them clean and regularly sorting through the produce to make sure only the freshest are on display on the Safeway store's shelves.
"I like making people happy," Saenz says as she sorts through some yellow squash.
Saenz, who lives between Mabton and Sunnyside, considers herself lucky to be able to have a job she's enjoyed doing all these years here in Sunnyside.
"I like to do my job," she smiles. "I try to take care of the customers and keep them happy."