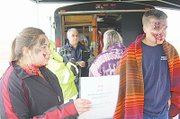 GRANDVIEW - On a cold, wet morning in a muddy field, a school bus full of teenagers is on its side.
Despite the gory appearance of some of the occupants, this isn't an accident. It is an annual training exercise conducted by local fire departments and hospitals to test their ability to handle a mass casualty event in the area.
This past Saturday on Stover Loop Road in Grandview, the exercise took a couple of hours to play out as firefighters handled massive injuries and tried to deal with a stubborn school bus windshield.
The volunteers mostly played their parts well, with cries and moans as the firefighters arrived. A volunteer playing a chaperone acted hysterical, requiring firefighters to continually take her back to the triage area to calm her down.
One real casualty occurred when a firefighter attempting to kick out the windshield stepped on the volunteer playing the driver of the bus, injuring his nose.
Eventually the patients were put in either ambulances or a hospital transport and taken away to get make-up removed and to get warm and dry again.