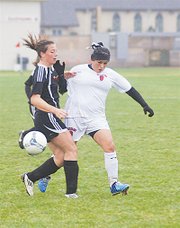 This past Saturday's 3A District loser-out match between Kennewick and host Sunnyside was positively memorable for the Lions and very disappointing for the Lady Grizzlies.
Kennewick earned a 2-1 victory, which was fete for the Lions, who snapped a 59-match losing streak that dates back more than four years.
"Our team didn't play to its potential," said Sunnyside Coach Sylvia Villagrana, stating some of her players began to walk off the field before the match was over.
She said the Lady Grizzlies started the match slow and couldn't find the back of the net until the second half.
It was Sunnyside, however, that got in the first goal.
Karina Perez found the back of the net in the 60th minute.
The Lions answered five minutes later. Megan Young received a pass from Stephanie Wilson to equalize the match, 1-1.
It took the duo just three minutes to slip past the Lady Grizzly defenders again. Kennewick's second goal was a repeat of the first.
Villagrana said Sunnyside can't use the rainy weather as an excuse for lack of execution.
The Lady Grizzlies slipped and slid on the field, but so, too, did the Lions.
"We ended the game with hard fair play all the way and as it's been said, 'someone has to win the game'," the coach said.
Sunnyside made 18 scoring attempts and Kennewick had nine shots on goal.
Sunnyside keeper Macenzie Butler recorded 12 saves.
Villagrana said, "You push and push...sometimes' you just don't get the response that is expected and you have to be patient."
After the Lady Grizzlies got their heads back into the match, Villagrana said they had every reason to be proud to represent Sunnyside High School.
"It was a good season and I know I shouldn't, but as a coach I already need to start thinking about what's in the year to come," Villagrana said.
She said 10 seniors leave SHS at the end of the school year, leaving open quite a few gaps in the line-up.
"It will be interesting to see what happens a year from now," said Villagrana.
Sunnyside finished the fall campaign with an overall record of 4-11-1.