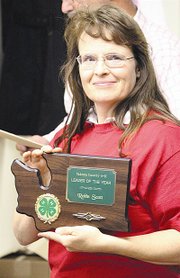 BUENA - After living in the Yakima Valley for just a few short years, Sunnyside resident Robin Scott has made a name for herself. That name: 4-H Leader of the Year.
Scott was named Yakima County 4-H Leader of the Year this past Saturday at the group's annual leaders recognition luncheon, held at the Buena Grange hall.
For the 66th consecutive year, Yakima County 4-H clubs have been honoring those who go above and beyond the call of duty.
Scott is the club leader of the 'American's Future' 4-H club of Sunnyside and has served on the Lower Valley 4-H Leader Council. Scott also served as chair of the annual fashion revue and show. In addition, she was lauded during the annual luncheon for lending a helping hand wherever she is needed.
Among the award recipients at the annual recognition event last Saturday was Doris Sonstelie. She was named the Yakima County 4-H Honorary Leader of the Year for her "endless dedication" to the children of Yakima County 4-H clubs.
The annual event also recognized many of the group's leaders and participants with special awards for their efforts throughout the year. Among the honors were public presentation trophies, which were awarded to Vanessa Jones, Beth Johnston-Newman, Rebecca Wiseman, Travis Hallenbeck, Trenton Jones and Ethan Wiseman.
Recipients earning special recognition from the Toppenish Rotary Club included 4-H clubs from Naches Valley, Fort Simcoe, Harrah and Sunnyside.
For their endless efforts of community service, the Naches Valley 4-H Club received the Lew Evans Memorial trophy.
Yakima County 4-H club members who earned special honors in livestock judging competition included Geodan Skyles, Taylor Ebbelaar and Laurynn Monson. Horse judging competitors who earned special recognition at the annual luncheon were Brianna Hallenbeck, Emily Glover and Amelia Haller.
The 2012-13 Yakima County 4-H Leader Council officers were also named last Saturday afternoon. Among them are Linda Weeks, president; Diane Jones, vice president; Don Linder, treasurer; and Robin Scott, secretary.