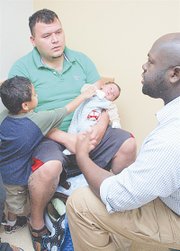 Being there for someone through thick and thin is what Dr. Neil Ponder loves most about his job.
"It's being there for the entire journey.... sometimes that journey doesn't have the best outcome but it's nice to be a form of support," he said.
Dr. Ponder is an obstetrician and gynecologist at the Mountain View Women's Clinic in Grandview.
Since last April, he's been helping Lower Valley female patients who are pregnant, with prenatal care or who need annual women's health exams. Also as part of his daily routine as a doctor in Grandview, Dr. Ponder helps his patients with female medical issues, and even provides counsel.
"Sometimes (the patients) just want to talk," he said.
Because of the wide variety of duties that encompass each day at the Mountain View Clinic, Dr. Ponder says he also enjoys that each day his practice looks a bit different.
Getting into the medical field wasn't the first thing that came to Dr. Ponder's mind. But having a science background in his family, he knew he loved to study science.
"But what to do with (a science degree) I didn't know," he said.
After getting his undergraduate degree in science, Dr. Ponder decided he wanted to go into a career where he could make a difference helping others.
As the cherry on top, working for the Grandview clinic is a place he feels he can give back, in a climate and community in which he's fond of.
This Missouri native says he loves living in the Pacific Northwest because of its weather, beauty and familiar farm life; and he wouldn't have it any other way.