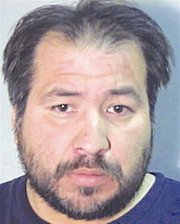 A feature two weeks ago on America's Most Wanted has put a 10-year-old Sunnyside case in the national spotlight.
In 2002 Daniel Leija, a former Sunnyside school bus driver, was arrested and charged with multiple counts of rape and exploitation of minors.
Initially held on $250,000 bail, Yakima Superior Court Judge Heather Van Nuys reduced it to $60,000 and Leija was released after his family came up with the lower amount.
Leija was never seen again as he fled the area and was last known to be in Mexico, according to the U.S. marshals who are handling the case.
Back in 2002 when his bail was reduced, Leija was facing 18 counts of first degree rape and molestation, eight counts of second degree rape and molestation, two counts of third degree rape and molestation, 12 counts of sexual exploitation and with jumping bail.
All told, that's 40 counts requested against Leija. As for how his bail was lowered to less than a fourth of its original amount, there's no way to know for sure says Harold Delia, a court consultant for Yakima County.
Delia said with felony cases there are no set bail schedules. "The judge has complete discretion over whether she wants to reduce or raise it," he said.
He explains that by state law judges are required to consider the least restrictive bail, while taking into account possible injury to the community or flight risk if bail is reduced.
Delia couldn't respond on the merits of the bail Van Nuys - who declined to seek re-election in 2004 - set in Leija's case.
He did say that in his years of court experience it's the first time he can remember bail being set that low for someone facing that many counts.
"Wow," he said.
The bottom line, Delia adds, is "...obviously it didn't work out because he took off."
Ten years later Leija is still off and running, and Carrie Taylor-Wylie is still looking for him.
Taylor-Wylie lived with Leija here in the Sunnyside area and says all of the sexual assaults counts are for actions he took against her daughters over a five-year period from 1997 to 2002.
She says in 2002 her daughters complained about Leija's sexual assaults. Sunnyside police then reportedly uncovered trunks and backpacks filled with videotape evidence of Leija and his alleged encounters with the victims.
Taylor-Wylie is grateful for the recent coverage on America's Most Wanted, and for the ramped up efforts by U.S. marshals that included press releases issued last week seeking information on Leija's whereabouts.
She contends that Leija has made return visits to Sunnyside to see family. Taylor-Wylie said his family claims he has drowned, which she calls a "blatant lie."
Taylor-Wylie says she and her four daughters, who now live in Bremerton, want to see Leija brought to justice.
"It's been 10 years and we're not giving up," Taylor-Wylie said. "The U.S. marshals are working on this every day."
Her daughters are now ages 24, 22, 19 and 18 and 10 years later they're struggling.
"We try to go on, but the girls, they're still drastically affected by it," Taylor-Wylie said. "Anger, fear, tears... they're so fragile."
Beatrice Bravo is a deputy with the U.S. marshals, and she says the national exposure is a boost in their search for Leija.
"We're asking the public to come forward with any information they might have," she said. "We hope we can find this guy."
She says the U.S. marshals have received some response from the America's Most Wanted program and the press release her office released last week. "Some people have called with information," Bravo said. "Whatever information does come forward will hopefully help."
If or when Leija is captured, Bravo says he will likely be tried in Yakima County Superior Court.
That's the same court which drastically lowered his bail 10 years ago, allowing him opportunity to escape.
Is Bravo worried history might repeat itself?
"I really can't speak to that," she said. "Our job entirely is to locate him."