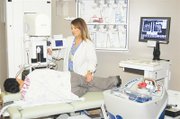 Some changes are being made to the Sunnyside Community Hospital mammography department, and those changes will mean patients who need a biopsy will be able to spend less time at the hospital.
Starting in late September, the hospital added a Stereotactic unit and the ATEC Breast Biopsy and Excision System to the department, allowing the hospital to perform biopsies on abnormal masses found during a mammogram without surgery.
"The old way involved putting the patient under to make an incision to get the material to be biopsied," said Coleen Goulet, diagnostic imaging manager at the hospital. "This involves using imaging to find the exact location of the abnormal mass and a needle to extract a sample."
With the old method, stitches were required.
"The incision with this machine is much smaller, it just requires a butterfly bandage," she said.
The machine also allows patients getting a biopsy to rest on their sides while undergoing the process. Patients getting a mammogram generally are standing.
In addition to the new machine, the mammogram room is getting an update. The room is being expanded to fit the new equipment, which utilizes the existing mammography machine.
"It's all a single machine, sort of," said Goulet. "It's an add-on that will allow us to use old equipment in new ways."
The hospital plans to hold an open house for the mammography department once all the renovations are complete to show off the space.