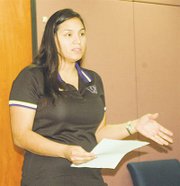 MABTON - In a presentation during the Mabton School Board meeting last night, Monday, it was announced that so far 35 Mabton seniors are on track to complete credits necessary for high school graduation.
Of that number, though, only 17 have passed end-of-course math exams required for graduation. School counselor Lucia Tovar said students who failed the exam will have a chance to take it again in January 2013.
The results of that test will be announced next spring and those students not passing the January test will not be able to graduate.
Tovar and Dave Mendoza, a site advisor at Mabton High School for GEAR UP, a grant-funded program that helps students prepare for college, told the board work is underway with those students who still need to pass the end-of-course exam.
For example, some students are taking two math classes. In addition, there is extra focus on helping students shore up areas where they may be weak in math.
Tovar said there have been efforts to reach parents to discuss the importance of students passing the January exam, but it has been difficult to make contact. She noted only two parents came to the school office after receiving a letter alerting them to the situation.
In response, Superintendent Minerva Morales reminded Tovar and Mendoza the district has access to two graduation coaches who could help with making home visits to see parents.