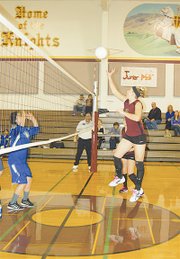 The Lady Knights played their last regular season match last night against the Yakama Tribal Eagles, and won in three games, 25-5, 25-5, 25-16.
"We worked well as a team tonight and stayed focused on pushing points hard
from the beginning of each set," said Sunnyside Christian Coach Stephanie Dalrymple.
Lady Knight Alexandra Newhouse went 40-for-40 from the service line while teammate Kate Newhouse was 10-for-10 serving with three kills. Danika DeGroot tallied five assists in the win and Stormee Van Belle slammed home nine kills.
During the final game, the Lady Knights subbed in every player to give their girls more playing time. Yakama Tribal took advantage of the inexperience of some of the Lady Knight players to score some points.
District champions, Sunnyside Christian (10-0, 17-0) will play in the Bi-District tournament this coming Saturday against the winner of the Mary K. Knight versus Taholah match, which is being played tonight.