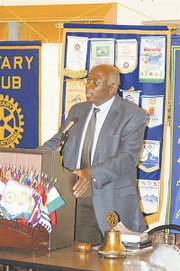 As he demonstrated his exercise machine after the Sunnyside Noon Rotary Club meeting this past Monday, sweat broke out on the forehead of Ogie Shaw.
The machine is part of Shaw's efforts to help people get healthier in order to avoid the coming crisis that will be caused by obesity.
Shaw told the Rotarians that daily exercise outperforms every type of medicine for getting people healthy, but Americans do not, as a rule, exercise.
"They measured and 40 percent of adults are still enthusiastically avoiding exercising, 50 percent exercise but aren't fit," he said. "Only 10 percent are healthy."
He noted that children are now getting what was formerly considered adult-onset diabetes. He linked the problem of obesity in children to the health levels of adults.
"I had a high school football coach who kept telling us to exercise as he waddled down the sideline," he said. "Kids don't respond to hypocrisy."
Despite everyone knowing that exercise is important, people still don't exercise. Shaw said there are two problems. One is a lack of motivation and the other is a perceived lack of time.
According to Shaw, one of the keys to getting people to exercise daily is motivation, and Shaw said one of the best ways to provide motivation is to measure fitness levels once a week, providing a way to see progress.
"Most fitness experts have it wrong, 95 percent of them will tell you to make it fun," he said. "It needs to be part of your lifestyle, not fun. It needs to be daily. Make it first thing in the morning and you have a 300 percent better chance to continue."
He said he's never met anyone who couldn't spare five minutes in the morning for exercise.
He also said people should check their fitness level once a week to see improvements.
"Fitness can be measured," he said. "It is a lifestyle, but it can be measured."
He recommends measuring cardiovascular endurance, flexibility and body fat in a five-minute workout each week to serve as motivation to continue daily exercises.
The other key is to limit the amount of exercise to less than 20 minutes while still delivering a workout that will increase fitness levels.
That is difficult to accomplish because the more a person works out, the easier any particular workout will become.
"They had a bunch of high school boys do push-ups over the course of a year, do as many as they could before becoming too tired to continue," he said. "Even the ones who started at five ended up doing 120 by the end of the year."
Shaw said the secret is resistive exercise. These are exercises in which the difficulty level can be increased as the person exercising becomes better, thus continuing to get a useful workout in the same amount of time.
For Shaw, those exercises use a machine developed for NASA to keep astronauts healthy on long space flights. The Isorobic kit includes a resistance device that allows the user to perform a number of exercises and adjust the tension as the exercises get easier.
Shaw demonstrated the machine for Rotarians after the meeting, showing how it can be used in a five-minute session to give a productive workout.
"Nothing does more damage to your quality of life and your ability to work than losing your health," said Shaw. "If we could just get a 10 percent improvement in the health of the U.S., it would revolutionize the economy."