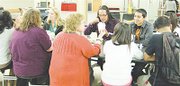 ELLENSBURG - Thanks to a fierce comeback, the Lady Greyhound volleyball team extended its season with a 3-1 upset of host Ellensburg last night.
The Bulldogs used their height advantage to edge Grandview 3-2 earlier in the season, but Tuesday night the Lady Greyhounds proved the better squad in the loser-out playoff contest.
Ellensburg initially looked like it might cruise past Grandview last night, taking the first game 25-18.
The Lady Greyhounds rallied, though, winning the next three games 25-18, 25-21, 25-18.
The match likely turned Grandview's way for good in game three, when Ellensburg raced out to a 9-1 lead.
"That was a great comeback," Coach John LaFever said of the 24-12 rally his team mustered to steal the win in game three.
LaFever said a key for Grandview's changing fortunes against the Bulldogs came down to short, sustained scoring bursts of four or five points at a time.
As for overcoming a height advantage that proved so troublesome during the regular season, LaFever said his players executed what they've been working on in practice.
"We worked on our serve-receive and did a good job of keeping the ball in play despite the fact we were much, much smaller," the coach said. "They just outplayed Ellensburg. It was a great win for us."
The Lady Greyhounds were led by Payton Parrish with 22 kills and Evann Swearingen with 26 assists and 13 digs. Hannah Pond helped Grandview with 20 digs, while teammate Taylor Hall had a strong all-around game by slamming 14 kills at the net and hustling for 14 digs.
Grandview (10-5) will be hoping for more of the same tomorrow, Thursday, when the Lady 'Hounds play at East Valley. The Lady Greyhounds are assured of at least two more matches as they seek to punch their ticket to State.