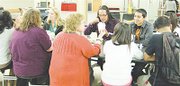 Sunnyside High School students made a big impression on visiting teachers, counselors and administrators from six tribal schools around the state, so much so that an attendee said the high school should be featured on the television show 60 Minutes.
The 30 visitors to the Native American Leadership Academy held Tuesday at Sunnyside High School said they were impressed from the moment they walked in the door by the cleanliness of the school and the good cheer of the students.
After attending several sessions with Sunnyside teachers, counselors and students, the visitors were even more impressed by the changes the school has gone through to turn a 49 percent graduation rate into a nearly 80 percent graduation rate over the course of the last five years. Many talked of how they hoped to start implementing SHS's programs in their own schools.
Jon Claymore of the Bureau of Indian Education said the visit to Sunnyside is an effort to improve tribal schools by sharing ideas. The group has been getting assistance from former Sunnyside High School Principal Chuck Salina, who suggested they visit SHS to see what has been accomplished here.
One of the most impressive statistics of the school is the 80 percent graduation rate. That may not seem so incredible compared to other area high schools that have achieved more than 90 percent rates, except that SHS's rate includes all seniors in the school district. Other districts have alternative high schools with much lower graduation rates. Leadership class teacher Josh Eidson told visitors that comparing the Sunnyside School District's graduation rate with other local districts shows just how amazing the improvement at SHS has been.
But while the graduation rate is a solid statistic that shows SHS's dramatic improvement, Claymore said the Native American Leadership Academy members were more interested in seeing how the entire atmosphere of the school has changed to become student-oriented.
Several attendees noted how cheerful the students seem at SHS compared to their own schools. One noted how the students were willing to speak up in the sessions to give their own viewpoints. The group talked about how SHS students have embraced the administration's efforts to improve the school and are now a vital part of the process.
The presenters at the academy, a mix of SHS counselors and teachers, warned that the process has not been easy and is not finished. Eidson talked about how many mistakes were made along the way.
"But we developed a system of trust," he said. "We didn't have to worry about failing and looking bad in front of the administration and other teachers, because of the trust. We failed, many times, but a lot of the ideas succeeded and that's how we got the results we have."