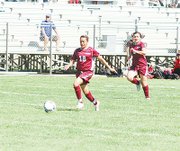 The Sunnyside Lady Grizzly soccer squad hosted non-league foe Grandview this past Saturday for each of the teams' season opener.
The Lady Grizzlies fought valiantly, but came up short by just one goal (2-1) in the 80-minute battle.
Sunnyside scored the first goal just eight minutes into the match when Susana Arreola booted the ball past Lady 'Hound keeper Madison Trevino.
The goal was made on an assist by Yarely Gomez, who had the ball on the outside and passed it to Arreola.
It was seasoned veteran Oryian Matheny of Grandview who answered six minutes later off an assist by Karissa Trinidad to equalize the match.
Sunnyside Coach Sylvia Villagrana said, "My goalie just didn't respond quickly enough."
The teams left the field at the halftime whistle with a 1-1 score.
It was 11 minutes into the closing half before Matheny scored again. She was able to get the ball past the Grizzly defense unassisted.
Villagrana said Matheny kept with the ball after a breakaway from the 30-yard mark. She said Lady Grizzly keeper Macenzie Butler attempted the save, but the ball came loose and made it through the crossbars.
Grandview Coach Anne Holden said, "Grandview left everything on the pitch Saturday...their season opened with a flourish."
Villagrana, too, was pleased with how well her team performed.
She said, "Many of last year's starters are back, and they are those who sustained injuries (last year). You have to have faith in your team...throughout the match both teams had their fair chance of scoring goals."
Holden said the Lady 'Hounds prevailed because of a well-executed game plan.
Trevino, she said, "...came up huge during the match recording seven saves to help preserve the victory."
Villagrana said Sunnyside didn't give up and continued to take its shots at the net, but fell short.
Trinidad and Matheny, said Holden, "...played with seasoned composure to drive and steady the young 'Hounds."
Grandview senior Karina Gonzales anchored the 'Hounds defense, allowing freshmen Irene Milanez and Isabel Pena to announce themselves as varsity players to watch, according to Holden.
"Juniors Marissa Caballero, Miranda Ebbelaar, Jamila Shafer, Tania Laurel and Wendy Maganas each showed glimpses of their talent and potential," she added, giving credit to seniors Gabriel Avalos and Ashlyn Sehnert for leading the bench into "...focused action when called upon to do so.
"But it was freshman Biviana Rivera who stole the show. For her tremendous showcase Saturday, she was unanimously voted 'Hound of the match," Holden said.
For Sunnyside, Elizsavet Escobar and Macenzie Butler combined for a total of 15 saves.
Sunnyside recorded 12 attempts at getting the ball through the crossbars.
Grandview will this coming Thursday host Highland, and the Lady Grizzlies will travel to Moses Lake that same day.