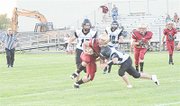 It was a great way to open the season this past Friday, winning the first football game by a score of 44-0, according to Sunnyside Christian High School Coach Ray Hernandez.
The Knights hosted Rainier Christian at Clem Senn Field and catered to the hometown crowd, showing everyone there has been much improvement over the summer.
Hernandez said the blowout doesn't, however, mean there aren't areas of the Knights' game plan still needing work.
"We should have had four interceptions...we were in position, but we couldn't hold on to the ball," he said of a few miscues last Friday.
Leading Sunnyside Christian with eight carries and 179 rushing yards against Rainier Christian was senior John Newhouse. His performance also resulted in two touchdowns.
Quarterback Wyatt Hoff also fared well against the Mustangs. His offensive line bought him time to complete two passes on five attempts, one of which was for a 50-yard touchdown.
Hoff connected with 6'7" tight end Brandon Broersma for the touchdown and later the pair connected for another 15-yard pass.
Hoff also had two rushing touchdowns.
Sunnyside Christian running back Ryan Bangs rushed for another 45 yards and two touchdowns.
The Knights edged the Mustangs by 32 points in the opening half of last Friday's game and kept on pushing.
Hernandez said the Sunnyside Christian defense also deserves a lot of credit.
"Our defense played well and the players seemed confident, understanding their assignments," he said.
Hernandez said the defense in the first half of the game caused the Rainier Christian offense much havoc. The Knights on a half dozen attacks and several tackles caused the Mustangs to lose any ground that may have been gained following a Sunnyside Christian turnover.
Gaining momentum the Sunnyside Christian defense gave its own offense an advantage, having backed the Rainier defense right up against its own goal line through four downs.
The ball was turned over to the Knights and Sunnyside Christian took advantage of the opportunity for the first score of the game.
Newhouse, C.J. Dalrymple, Nate Scheenstra and eighth grader Mark Mortensen were all credited for the Knights' strong defensive stance.
Newhouse, said Hernandez, was notable for a strong running game.
Scheenstra, he said, wrapped up a few of the Mustangs and "...played good technical football."
Hernandez continued, stating, "Number five (Mortensen) nearly had a couple of interceptions."
The coach said the Knights will this week prepare to take to the gridiron against Kings Way Christian this coming Friday.
It is not yet known if they will play on the field at Lyle High School or in Vancouver because Sunnyside Christian was originally scheduled to play against Lyle.
"Lyle wasn't able to field a team this season," Hernandez explained.