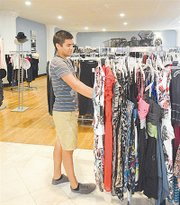 Not only was Shop a Lot for Less in Sunnyside opened to provide Lower Valley residents the opportunity to purchase quality apparel and shoes, but it is a legacy from a mother to her children.
Suzy Axmaker in 2010 learned she had cancer. Not knowing whether or not she would survive, she began looking for a business opportunity.
"I wanted to leave something for my children," she said, stating she only recently learned she is in remission.
But the wheels were in motion and Axmaker believes Shop a Lot for Less is still something her children can be proud of owning.
There are six members of Axmaker's family that own the local retail business, including Tasha, Sheena, Cody and Lewis Axmaker, as well as Luce and Anthony Salcedo.
Suzy is a managing member of the business, having purchased the former Venus Dance Hall on Scoon Road in September 2011.
The family began remodeling the 6,000-square foot facility this past January and opened it for business nearly two weeks ago.
Tasha was in charge of design, making the environment appealing to shoppers.
"She's an interior designer," said the mother of the troupe.
Axmaker said she was able to obtain a contract with a large national retailer that enables her family to provide patrons with quality fashion attire at discount prices.
The family business is also a distributor for Rainbow Play Systems, offering playground equipment at discounted prices.
"We felt there was a need locally for inexpensive shopping options and the large space is well-suited for the needed floor displays," said Axmaker.
She said the facility also sits on a large parcel of land, which is suitable for events and other merchandise like the playground equipment.
"We might even be able to offer storage sheds," Axmaker said.
She said the low overhead provides the business the ability to ensure the merchandise is sold at affordable prices.
Currently the merchandise includes clothing, shoes, bedding, jewelry and some housewares. Designer men's suits are among the apparel options.
"Oh, and spring fashions are currently on closeout," Axmaker added.
Shop a Lot for Less is open seven days a week from noon to 7 p.m.
For customers with inquiries the phone number is 836-0065.