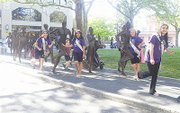 The second annual Sunshine Days Miss Sunnyside Sun Run & Walk 5K event is planned for Sunnyside's Sunshine Days.
Sponsored by HAPO Community Credit Union, the event will begin at Central Park Saturday, Sept. 15, at 7:30 a.m.
Registrations will be accepted beginning at 6 a.m.
The entry fee for the run is $20 for runners pre-registering by Friday, Sept. 7, and $25 for participants entering the race after that date. Children 12 and under can register at the cost of $15 each. Participants will receive a t-shirt upon registering.
The event was organized by the Miss Sunnyside Committee and the race will be timed this year.
To register or obtain more information, contact Teri Alvarez-Ziegler at 831-6665 or the Sunnyside Chamber of Commerce at 837-5939 or email Ziegler@embarqmail.com.
Entry forms are also available at HAPO Community Credit Union or the Sunnyside Chamber of Commerce.