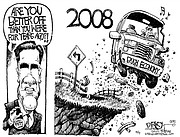 I have made it clear a number of times that all politics all the time is something I barely tolerate.
I believe there is more in life than politics and it is okay to watch mindless drivel for entertainment purposes.
It is often argued that an informed voter is important.
True, but I argue one can only hear about the same issue being spun so many ways before it becomes mind numbing.
The recent Republican and Democrat national conventions for me were nothing but entertainment. I knew what to expect from each party and was unimpressed with the idea of watching hours of politicians and speakers talk about issues facing our nation.
I knew the Dems would say we are better today than four years ago. I knew they would tell the nation Obamacare is the greatest thing next to sliced bread. I also knew they were going to tout President Obama as a saving grace to the citizens of the United States.
I knew the Republicans were going to talk about the jobs crisis and Obama's record, with which I am already upset.
Because I am living the repercussions of Obama's policies, I didn't care what either party had to say. I know what my life is like and I know which box I will check in November when it comes to the presidential candidates.
What entertained me most was the 180 the Democrats pulled in the last few days. They neglected to keep God in the platform, which upset a lot of folks across the U.S. since our nation was founded on faith principles.
Because of the outcry, the Democrats Wednesday decided to change that platform to include God and to name Jerusalem as Israel's capital.
It was highly predictable that would cause a stir among the party's anti-Israel delegates. What struck me as funny was the vote was called for three times, and it still wasn't clear to me if the two-thirds vote was achieved to amend the platform.
Watching those of Arab descent stand in protest, shouting their outrage was not surprising in light of the situation.
The Democrats should have taken a roll, although I realize that would have taken hours.
What does surprise me, however, is that those opposed to the party's platform change didn't realize the majority of the nation is made up of professed believers in God, and the Democrats are going to cater to that majority.
After all, the politicians want the votes of the majority and, whether those who are opposed to faith or God like it or not, God rules among that majority.
Also, regardless of what those opposed to Jerusalem being named as the capital of Israel believe, look at a map.
Politics are what they are and, thankfully, the political grand-standing that takes place during a national convention is done and over with.