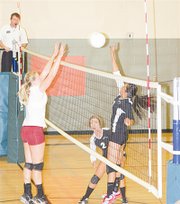 The Sunnyside Lady Grizzly volleyball team showed progress, but still came up short in a 3-0 loss last night to visiting Moses Lake.
The Chiefs handily won the first set 21-9, then followed with 21-14 and 21-10 victories to seal the 3-0 victory.
"We haven't played a lot together, so we have some growing pains," said Sunnyside Coach Sandy Jaquish. "We played better in the second game, but we need more court time together."
A bright spot for the Lady Grizzlies (0-1) was Lydia Robert, who connected on all six of her service attempts.
Thursday night's match was originally scheduled to be the home opener in Sunnyside's new gym, but had to be moved to a middle school because of construction issues.
Jaquish praised the loyal Lady Grizzly followers for adapting to the change in venue last night.
"I want to thank the fans. That was some of the best support we've had," he said.
As for providing his squad more experience, Jaquish says Sunnyside will participate in the volleyball festival tomorrow, Saturday, at the Yakima Valley SunDome.
"It's good to play match after match because you get used to playing together. It will be a positive experience for us whatever happens," Jaquish says of the SunDome tourney, which will guarantee the Lady Grizzlies three matches tomorrow.