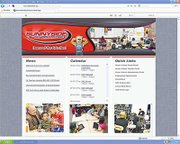 For the past week anyone seeking information about the Sunnyside School District have been able to do so via a new website that went live last Friday.
Unfortunately, a simple Google search may not have provided the correct web address, and the old web address didn't redirect visitors to the new site.
Sunnyside School District spokesman Curtis Campbell said the district realized there was a problem with the old web address. He said the district's technology department had to work on the issue to get that particular feature up and running.
"It is working now," he said, stating the web address found during a Google search has actually not been in use for a couple of years.
Those accessing it were redirected to the current web address, www.sunnysideschools.org until the newly designed web page went live a week ago.
Campbell said the new design has been in the works for approximately one month.
"Most of the content from the previous site is on the new one...more content, information and features will be rolled out as teachers and parents are taught how to utilize the website as a tool to support student access," he said.
The old web address, said Campbell, will remain the top link for online searches because it was used for so many years and has had the most "hits."
He said the school district, however, is working with Google to remedy that issue, as well.
He said the Sunnyside School District wants parents, students, staff and community members to use www.sunnysideschools.org because the new website is designed to integrate with Power School, a student information system. That secure system provides parents with access to grades, attendance records and other information.
Teachers and staff will be able to create web pages for sharing documents, information and multimedia.
Videos will also be hosted on the new website for communication purposes.
The new website, said Campbell, has a translator that is capable of sharing information in Spanish and approximately 30 other languages.
The goal, he said, is to make it easier for everyone to communicate and share information that is important to anyone affiliated with Sunnyside's schools.
The Sunnyside School District's newly designed web site can be found at www.sunnysideschools.org.