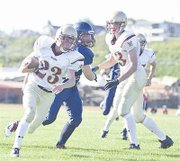 VANCOUVER - "We were our own worst enemy," Sunnyside Christian High School football coach Ray Hernandez said of last Friday's non-league match against Kings Way Christian.
The Knights fumbled the ball three times, and each of those miscues was picked up by Kings Way.
"When we hung on to the ball without mistakes, we were successful and were able to score," Hernandez shared.
He said the host team had a quarterback who was an escape artist.
Sunnyside Christian put the pressure on him, forcing a running game.
"The quarterback was so elusive, we couldn't contain him, but the pressure kept him from throwing the ball," Hernandez said.
Josh Anderson of the Knights played nose tackle and was credited for slipping past the offensive line to put that pressure on the Kings Way quarterback.
Another defensive player that made a mark was Drew Puterbaugh, who snatched the ball away from Kings Way for the one interception Sunnyside Christian was able to make.
Sunnyside Christian was able to score twice in the first half, but Kings Way had a 40-point advantage at the break.
That triggered the running clock for the second half.
"We scored in the third quarter, closing the gap. But, once the running clock rule is in place there's no stopping it," said Hernandez, stating the Knights were working against the clock in the second half of the game.
The remainder of Sunnyside Christian's 30 points were scored in the final stanza.
"We got sloppy and made a few mistakes...if we can eliminate the mistakes, we can play very well," said the coach.
He said there were some great offensive efforts made by Luke Wavrin and John Newhouse.
Wavrin carried the ball 20 times for 196 yards and three touchdowns, while Newhouse scored one touchdown on 23 carries. He ran for a total of 133 yards last Friday.
The Knights will this coming Friday travel to Wellpinit.
"That game is expected to be another challenge for us," said Hernandez, stating the Knights will need to maintain possession and not allow the ball to slip through their hands.
"We can do very well if we don't make the same mistakes we did against Kings Way," he said.