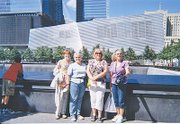 A total of 29 Washington State Delta Kappa Gamma members traveled to New York to hear from influential women from around the globe.
The Delta Kappa Gamma Society International is a professional honorary society of women educators. The society promotes professional and personal growth of its members and excellence in education.
Established in 1929, Delta Kappa Gamma has attained objectives on improving opportunities for qualified women employed at every level of education, as well as in advancing the status of women educators.
This past July, Delta Kappa Gamma members from around the globe gathered in New York City to hear from leaders around the world. During the convention attendees heard speeches and performed activities that were meant to strengthen their clubs locally.
A member of Alpha Lambda, the Sunnyside area chapter, Judy Carrick traveled to New York this past summer with three women from Yakima area Delta Kappa Gamma chapters.
Carrick said the convention provided her the opportunity to hear from prominent women who work with the international society.
"The experience of traveling to the East Coast to meet other women from around the world was unique," she said.
Carrick also said the convention helped her learn how she, too, can make a difference in her community by helping young women become increasingly successful in their lives.