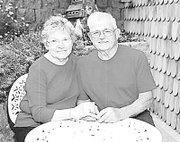 Chuck and Ruth Ashley will celebrate their 60th wedding anniversary on Saturday, Sept. 15 at an open house at the home of their daughter Liz Charvet.
The pair was married Sept. 30, 1952 in the Pleasant Valley Methodist Church in Mobile, Ala. They met while Chuck was in the Air Force.
Chuck is retired from Twin City Foods and Ruth is retired from Ashley's Catering.
Their children Liz (Matt) Charvet of Grandview and Mike (Greta) Ashley of Stanwood will be hosting the open house.
Chuck and Ruth have six grandchildren: Allyson (Chris) Richards, Kjersti (Curtis) Sundberg of Camino Island, Brad Charvet (Mackenzie), Betsy (Brandon) Lenz of Grandview, Michael (Jerry) Bailey of Spokane and Paul Ashley of Stanwood.
They also have six great children: Karter and Kale Sundberg, Xavier and William Charvet, Brynn and Baya Lenz, as well as two more great grandchildren on the way.