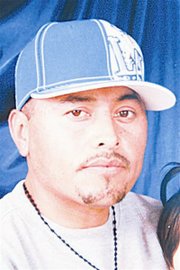 MABTON - After residing in Mabton for nearly eight years, a person wanted by police was finally identified and taken into custody.
Under the name of Manuel Vazquez-Escalante, he moved to Mabton in 2004 and made himself a home in the 400 block of Cedar Street, according to law enforcement officials. He started a new life, with a job and a family.
But after an anonymous tip came in to Mabton police officers last Tuesday, Sept. 4, his fake identity was soon to be discovered.
Apparently, Refugio Jose Vazquez-Tellez, which was his real name, was wanted for a crime committed in Lewis County in 2004. Vazquez-Tellez had assumed another identity and settled down in Mabton.
Last week after Mabton officers identified the suspect as matching the description of one of Washington's most wanted individuals, he was arrested.
Vazquez-Tellez was immediately extradited back to Lewis County, police say, where he faces first degree assault charges as a suspect in a multiple stabbing incident.
Mabton Sergeant Cas Cedillo says the tip came from a resident, who had overheard Tellez-Vazquez "bragging" about the crime he got away with. Cedillo says the suspect was arrested by Mabton police and, after a few moments of interrogation, his true identification was unmasked.
Since Sunday, Sept. 2, Mabton officers also fielded 18 calls for service. Of those calls, seven were agency assistance requests, two hit and run accidents which caused minor vehicle damage, two traffic stops and miscellaneous suspicious circumstance reports and animal and noise complaints.