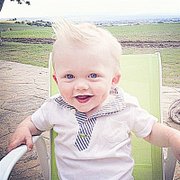 NEW YORK - Jax Slegers of Sunnyside was this past Monday announced as a top six finalist in "LIVE's Cutest Kid Search" on the LIVE! with Kelly and Michael morning TV show.
The Sunnyside youngster, with his family, appeared on the show yesterday morning (Tuesday).
"LIVE's Cutest Kid Search" was announced back in June, and nearly 100,000 entries were submitted for consideration in two categories: babies for little ones between the ages of 6 and 48 months, and big kids ages 4 to 8.
The submissions were narrowed down by the "LIVE" staff to 60 semi-finalists, and six photos each day were shown throughout the "LIVE" broadcasts from Aug. 20 through Sept. 3.
During that time the viewers voted online for daily winners in each category.
The 20 daily winners (10 babies and 10 big kids) were narrowed down one last time by the "LIVE" staff to the top six finalists (three kids in each category).
Slegers is 10-months-old and is in the baby category.
He was among the six finalists who traveled to New York City and appeared live on the show.
The winner will be announced this coming Friday after a professional photo shoot and an online vote.
The winning baby and the winning big kid each will enjoy a 7-day cruise for a family of four aboard Norwegian Cruise Line.
And, the "Cutest Kid" winner with the most overall votes also will receive a fully-loaded, brand-new 2013 Dodge Journey for his or her family.