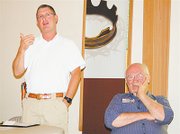 About 50 people showed up for a community forum on human trafficking in the Lower Valley held at Sunnyside's Oasis Community Church last night, Wednesday.
The forum was hosted by the church and Sunnyside's Promise, and introduced the community to the issue of trafficking in the valley and a new task force that has been formed to fight the problem.
Pastor Cameron Garcia started the program with a description of meeting a young woman who was trafficked and talking with her. He described the conversation as "the worst two hours of my life."
Garcia said there is a perception that it doesn't happen here, that trafficking is a problem overseas. But he said it's a problem everywhere.
Suzi Carpino, youth victim specialist for Sunnyside's Promise, introduced the Sunnyside Anti-Sex Trafficking Task Force, which has already been established and includes members from law enforcement, health, school and local ministries.
Carpino also introduced a group that had traveled from Ellensburg to attend the forum. Juneteenth of Central Washington is a non-profit that works with victims of trafficking, including providing much-needed shelter.
Finishing up her remarks, Carpino introduced two Sunnyside mothers who have missing children. Both the missing are at high risk for trafficking, according to Carpino.
Mark Baysinger, executive director of Sunnyside's Promise, spoke next. He said that the organization had not intended to get involved in fighting human trafficking.
"It was not something we were looking for," he said. "It was just there when we learned more about gangs."
He told the group that fighting the gang problem means tackling all parts of it. And trafficking is one way that gangs can make a lot of money. Fighting trafficking is one way of stopping gangs.
"We can't look at only one thing," said Baysinger. "Please let us not take our eyes off the whole picture."
Baysinger then played a video which features two Lower Valley youth who were involved in trafficking.
The identities of the youth are obscured, but the stories they tell are devastating. A young man explains how he groomed children to be sold. A young woman describes how she at first felt protected by the gangs before she was sold to as many as five men in a day.
The video will be available online at sunnysidespromise.org and is also available for groups that wish to show it to spread awareness of the problem.
After the video, discussion was opened and the group asked questions and provided suggestions.
Asked what the task force was for, Carpino said the main goal of the task force is to completely eradicate trafficking in the Yakima Valley. It was noted that police have been doing a very good job at suppressing gangs, but taking away the financial resource of the gangs would cripple them.
Deputy Chief Phil Schenck rose to explain that police want the gangs gone.
"In every way possible we will fight them," he said. He then told the forum that it had taken Carpino eight months to convince him that trafficking was actually a problem in the area.
"It wasn't until I asked our crime analyst to run the numbers that I was convinced," he said. "I was not happy with what we found."
The group also discussed how to educate people to notice the signs that a victim was being groomed by a gang. Carpino said she has been bringing training into Sunnyside, and will continue to do so as long as she is able.
"We're at the very beginning stages of understanding it in our community," said Carpino. She said the trafficking crisis team consortium meets every second Tuesday at noon at the Sunnyside Community Center, and everyone is welcome to come and learn more.
Garcia noted that the efforts of Sunnyside's Promise have been noticed around the country. When asked what intervention models have been explored, Garcia said that Sunnyside is the model.
One audience member asked what to do if he saw a victim. He was told that if the victim was in immediate danger to call police. There is also a hotline for people to call, 1-888-3737-888, that will connect the person calling with local resources.
Toward the end of the event a victim of sex trafficking stood up and told her story to the group. She talked about what was done to her and how she never knew there was a way out.
Both of the mothers with missing children spoke. One told of how her child was lured through the internet. The other, Maria Mojica, wept as she talked about her daughter.
"We need to be more careful with our children," she said.