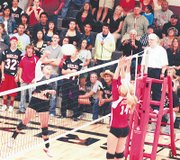 In their first match in Sunnyside High School's newly renovated gym, the 3A Lady Grizzly volleyball team started strong last night before falling in five sets to 2A Prosser.
Sunnyside rallied from a 14-9 deficit in the first set Thursday to prevail 25-21. The opening set was tied at 21-21, before Sunnyside reeled off the final four points, three of them served by Madison Marquez.
The visiting Mustangs came back with a strong rally, though. Prosser cruised to a 25-12 win in set two and edged the Lady Grizzlies 26-24 in the third set.
"We came out flat and we couldn't recover," said Sunnyside Coach Sandy Jaquish. "We couldn't seem to get any momentum going."
Down 2-1, Sunnyside showed plenty of heart in set four, prevailing 25-19 to tie the match at 2-2.
"We played well in the fourth game. Everything worked," said Jaquish, praising his squad for fighting back to even up the match.
But it was all Prosser in the fifth and final set with a 15-8 win to clinch the match.
"That fifth game we made more mistakes than they did," Jaquish said.
Despite the loss, the coach praised the turnout for last night's match. "The crowd was great," he said. "The new gym is awesome."
There were no statistics available from last night's match.
Sunnyside is at home again tomorrow, Saturday, for a non-league match against 2A Toppenish.