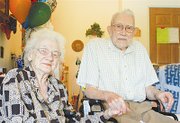 Last Sunday the Sunnyside man celebrated his 100th birthday. Born on Sept. 9, 1912, Taylor has lived a full life.
He grew up in a town "you've never heard of." Paha Washington was a small town of about 600 people that was situated between Ritzville and Lind. Taylor says it no longer exists.
As a teen, Taylor spent many summers and school breaks working on a cattle ranch. He threw hay, and did other various chores on the farm. After high school graduation, Taylor went to work there fulltime.
During his free time, Taylor was just like any other youngster. He loved to go sledding and ice skating in the winter time, and play baseball in the summer.
Taylor remembers telephones in a different way.
"Oh yes, we had phones you had to crank," he said while making a circular motion with one hand, while the other was miming a phone to his ear.
Technology of all kinds is simply astonishing for Taylor.
"Oh mercy, (it) goes right over our heads," he said.
For the past 12 years Mr. Taylor has been married to a woman named Pearl.
"She never whopped on me or anything," he said of meeting his new wife more than a decade ago. "One thing led to another, and Bingo!"
Taylor says he's not sure how to feel about being alive for a century.
"It's funny I haven't kicked the bucket yet," he said. "I don't know what's kept me alive."
One resentment Taylor has in his current life is that he needs an oxygen tank.
"Day and night, I have to have it, I just have to live with it," he said. "That's my only resent, otherwise being 100 is pretty good."
But most of all, Taylor says he's thankful that at his age he's still able to get around. There are many his age that aren't as fortunate as him.
"Some people are crippled, or have to crawl around," he said. "I can get around."
And that, he's thankful for.