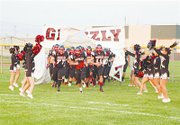 The Sunnyside Grizzly football team suffered another tough loss last Friday in a 25-19 defeat at the hands of visiting Kamiakin.
The eighth-ranked Braves had to score nine points in the final 16 seconds to escape with the win.
Sunnyside looked to be headed for an upset win when Eduardo Salmeron connected with Joseph Contreras on a 47-yard touchdown pass with 56 seconds to play.
Things looked even better for the Grizzlies when they intercepted a Kamiakin pass with 47 seconds to play.
Sunnyside (1-2) took over deep in their own territory and tried to run out the clock, but the Braves were able to call enough time outs to leave 11 seconds on the clock when the Grizzlies faced fourth down.
Rather than punt and risk a blocked kick, the Grizzlies elected to take a safety in their own end zone. That gave Kamiakin two points but it also allowed Sunnyside to kick from their own 20-yard line instead of near their own goal line.
Following a squib kick to take some time off the clock, the Braves were in business near the Grizzly-40. They tried one last desperation throw and connected for the winning score.
"It was a heartbreaker, the kids played wonderful," said Sunnyside Coach Mark Marro. "Everybody played great, they just out-jumped us for the last ball."
It was a tight contest from the get-go, with both teams tied at 6-6 after one quarter. Sunnyside went up 13-6 at the half when just a minute before the half-time whistle Salmeron set an SHS school record with a 95-yard touchdown run.
The Braves rallied in the second half and built a 16-13 lead before Salmeron's late touchdown throw put the Grizzlies in front.
Salmeron rushed for 164 yards and two touchdowns on the evening, and completed 7-of-11 pass attempts for 102 yards and one more touchdown.
Contreras gathered in three catches for 63 yards, while Ramon Hernandez busted through the line for 82 yards rushing on 16 carries.
Contreras was also a standout on defense for the Grizzlies, picking off two Kamiakin passes. Sunnyside's Jacob Galindo also stepped in to pick off a pass.
As with a tough loss the week before to Southridge, Sunnyside controlled the clock and yardage, but couldn't come up with a win.
The Grizzly football program has made strides in being competitive with the best teams in the state, now it's just a matter of taking that next step in getting victories.
"It's hard. There are only so many times you can shake that away," Marro says of the tough losses. "We're right on the cusp."
Marro praised his team for sticking together through the adversity.
"It's tough for the kids, it's tough for the fans, but I'm really happy with the kids. I saw them at the (Miss Sunnyside) pageant and they were upbeat. They know we have to move on," he said.
Moving on will mean taking on Kennewick at home this coming Friday.
"We're still in the hunt, but we have to win the next two games to secure a playoff berth," said Marro. "I'm blessed to have kids that want to keep fighting."