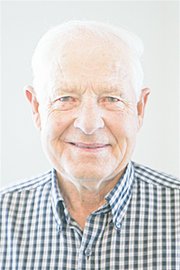 When you get up near the 80s it's time to get out of some of these things," said Bob Golob about his recent retirement from the board of Sunnyside Valley Irrigation District.
Golob served on the board for 26 years. His son has been appointed to fill his vacant seat on the board.
"It's been a long time," he admitted. "I'm even older than I was when I started."
Golob is a dairy farmer from Granger who also served on the boards for the Washington Dairy Products Commission, the Washington State Dairy Federation, the Central Washington State Fair, Home Security Bank, American West Bancorp, Bleyhl Farm Service, Inc. and the Washington Dairy Herd Improvement Association, among others.
He had already retired from all those positions and said this was the last one to go.
"It was time to hang it up," he said. "I've enjoyed my time. I've seen some of the biggest improvements over the years."
Golob spoke about the efforts made in conservation, the addition of automation to the system and the major piping effort in Grandview that helps to manage water.
"We finally got to where we could work with the Yakama tribe to come to agreements," he said. "Without the tribe's blessing, a lot of things couldn't be done."
He said the SVID board was on the top of the list of boards he's worked on.
"We always talked things over," Golob said. "The people knew what they were doing. We came to good conclusion."
He said the cooperation with management at SVID and other organizations the board needed to work with had made the effort a pleasure.
SVID Manager Jim Trull said Golob rarely missed a meeting of the board.
"He was very dedicated, supportive and knowledgeable of SVID operations," said Trull. "During his time on the board, he helped implement the policy that merged most of the drainage improvement districts into SVID and well as the merger of five irrigation districts with SVID."
Golob's son, Kevin, said he's still very active and just spent three weeks visiting Norway. Golob and his wife spent the time north of the Arctic Circle.
"He's always going somewhere," said the younger Golob. "He's always been an upstanding father and person in the community."