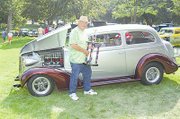 Drivers with their flashy vehicles showed up in droves to celebrate Sunnyside's Sunshine Days at the annual Poker Run and Sun & Shine Car Show held last Friday and Saturday.
The Poker Run, held Friday night, attracted 22 drivers who visited five stops in Sunnyside to pick up a playing card before ending up at the Sunnyside Airport to enjoy a barbecue dinner.
The winner of the highest hand was Buster Hunsaker, who took away a $100 prize. Bob Baron earned lowest hand honors and won an M&Ms airplane dispenser with a bag of M&Ms.
The next morning the cars began rolling into Central Park in Sunnyside to gather for the show. Some drivers arrived early to enjoy the annual fireman's breakfast in the park, while others trickled in over the course of the morning.
A total of 56 vehicles were entered into the car show, including motorcycles and trucks.
Door prizes were given out at regular intervals during the celebration and at 2:30 p.m. trophies were awarded in a number of categories.
Motorcycles
1st place: David Lord, Sunnyside, 2007 UMC Chopper.
2nd place: Jeff Matson, Sunnyside, 2006 Suzuki C50 Custom
Trucks
1st place: Nat Perez, Grandview, 1957 Chevy 3100
2nd place: Barry Barnhart, Kennewick, 1976 Ford Bronco
The 30's
1st place: Ed Bearle, Benton City, 1932 Ford 5 Window Coupe
2nd place: Robert Free Jr., Richland, 1932 Ford 3 Window Coupe
The 40's
1st place: Don McIntire, Sunnyside, 1940 Chevy 2 door
2nd place: Ken Stearns, Sunnyside, 1948 Mercury Coupe
The 50's
1st place: David Oldham, Kennewick, 1955 Chevy 210
2nd place: Prosser Funeral Home, 1959 Rolls Royce Silvercloud
The 60's
1st place: Larry Fortier, Yakima, 1967 Chevy Camaro RS/SS
2nd place: Jake Ruiz, Sunnyside, 1966 Chevy Chevelle
The 70's
1st place: Rod Tamburello, Kennewick, 1970 Dodge Challenger
2nd place: Benny Ramirez, Yakima, 1970 Oldsmobile Cutlass Convertible
The 80's
1st place: Bill and Liz Doyle, Cle Elum, 1989 Avanti Convertible
2nd place: Tom Legard, Pasco, 1989 Chevy Camaro
The 90's to Present
1st place: Ron and DeAnn Hochhalter, Sunnyside, 1990 Avanti 4 door
2nd place: David Hawkins, Yakima, 1995 Ford Mustang
Other Awards
The "Git-er-done" award went to Dylen Kelley of Grandview, 1968 Ford Bronco.
The Children's Choice award winner was a 1968 Pontiac Firebird owned by Steve Waller of Sunnyside.
The Yakima Valley Dairy Women's Choice was a 1967 Chevy II Nova owned by James and Patti Bolm of Moxee.
The Miss Sunnyside Court selected a 1955 Studebaker Commander owned by Gordon Bueling of Yakima as its prize winner.
The President's Choice award winner was a 1957 Chevy pickup owned by Bob Baron of Sunnyside.
Best of Show honors went to a 1938 Chevy 2 door Master Deluxe owned by Bill Trefry of Yakima.